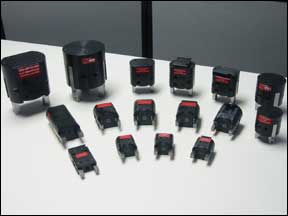 DURA-GRIP Part Placement Devices are designed to provide a low cost gripping unit for use on transfer mechanisms. These air operated units grip parts internally or externally offering the designer a wide latitude in finger tooling arrangements.
Available in two or three finger grip models, DURA-GRIP units are ruggedly constructed with a minimum of moving parts. Utility tapped holes permit mounting the unit from the top or the side with additional cap styles for dovetail mounting. These same holes can be used to mount "stripper" devices too. All units are shipped completely assembled, ready for mounting and attaching tooling.
The body is anodized high strength aluminum, fingers are hardened tool steel. Maximum pressure, 100 psi. HD heads are available in all sizes of the GH series. These heads' toggle linkages are arranged to have the inward motion of the finger occur on the full (bore) side of the piston. Consult factory for gripping forces. An optional finger positioning sensor is available on all heads. The built-in proximity switch can be set to indicate either fingers opened or fingers closed.